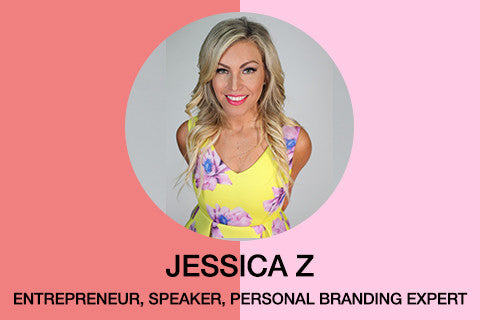 Jessica Z
What Makes YOU Feel Powerful? 
So many things make me feel powerful! I truly LOVE being an entrepreneur and being a witness to "what you put in is what you get out" - working hard is the most gratifying feeling for me. In truth, 2017 has been the most successful year of my professional life and I know it's a result of how hard I have worked, and work every day, to get to this point. That makes me feel so powerful. But so does coaching my employees, who are mainly female, and watching them grow and blossom and step into their own greatness. Traveling the world makes me feel powerful and free. SOUL Cycle, Chi50, Barry's Bootcamp make me feel powerful and badass. Putting my phone on silent, taking a bubble bath and tuning out the world makes me feel powerful and peaceful. Personal power comes in so many forms.
My dog Zooey, my tribe of fierce female friends and my incredible husband.
What advice would you give to your 15 year old self?
You are beautiful just the way you are.
A book you have read more than 3 times.
Favorite quote from a movie.
"Here's to the ones who dream, foolish as they may seem. Here's to the hearts that ache; here's to the mess we make." - from

La La Land

.
High heels or ballet flats?
Favorite way to break a sweat.
Your go-to healthy snack.
Your favorite comfort food.
Tuna Salad on an Egg Bagel from

Once Upon a Bagel

in Highland Park
An inspiring TED talk you loved.
Who are your favorite women heroes?
A piece of interesting news you read recently.
A Medium Blog about how you can't fake being "authentic." You have to just simply be yourself.
Your favorite city, and quick tips for traveling to that city.
OMG this is impossible - I have been to 30 countries in the last few years alone so this is like asking me to pick my favorite child. I guess if I had to pick one place it would be

Bali, Indonesia

. Advice would be: prepare for being on a plane for at least a day (it's far, but SO worth it), pack light (you really don't need to wear anything fancy and the weather is hot, so the lighter clothes you bring the less heavy your suitcase needs to be), eat an acai bowl every day for breakfast, take yoga at the

Yoga Barn in Ubud

, stay in the Phoenix Suite AirBnB and rent a moped in Canggu and shop the local boutiques for cheap and INCREDIBLE finds and open your heart and mind to the sacred spirituality of this island.
What is the first thing you do when you get home from a trip?
Shower, and then call all my loved ones up on the phone to hear their voices.