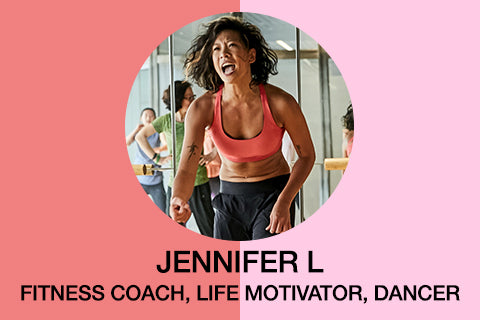 Jennifer L
What Makes YOU Feel Powerful?
Facing my fears, in all aspects of life: going for the BIG jump, whether it's bungee jumping, cliff-diving, falling in love or being vulnerable and opening up to people. There's such a thin line between powerless and powerful, the moment you understand you can't control everything is exactly when you know your real power lies in how you react to circumstances.
Favorite way to break a sweat.
Dancing!
Favorite instagram account to follow?
Your go-to healthy snack.
Homemade banana-avocado smoothie!
Your favorite comfort food.
Haagen Dazs Strawberry ice-cream
What are your gym bag essentials?
Water bottle, Crystal deodorant, hair bands, phone, colourful sports gear, happy socks, shoes, face cleanser and we're good to go!
Your go-to mood enhancing thing or activity.
Traveling; short and long trips.
What's your favorite Sports Bra style and why?
Seriously I love all of POWWFUL designs, if I had to choose my favourite, I would pick

The Loop

! I love the baby pink and the design is very unique and playful! It makes fitness fun and that for me is the priority!
Favorite day of the week?
Monday!
Your favorite city, and quick tips for traveling to that city.
Shanghai

- because that's where I live. Come with an open-mind and good-humour. It's west meets east in a beautiful chaos, where the easiest task like buying a water-bottle in a seven-eleven is nerve-wracking. My best advice? Keep calm, smile and adopt a zen attitude. The more you fight it, the less you'll get by...
Racer back or Open back tank tops?
A piece of interesting news you read recently.
Did you know frogs breathe through their skin when completely submerged?